5 Unavoidable Reasons to Choose Digital Marketing for Career
Finding the right career path is a challenging task for most of the students, graduates, and job seekers. You need to evaluate your interests and consider several factors such as long-term stability, required skills, the scope of growth, and more.
During school times, not many people dream of starting a career in digital marketing. It is because the exposure to this field was limited a few years ago. But today, digital marketing is an in-demand skill that is chosen as a career option by thousands of individuals.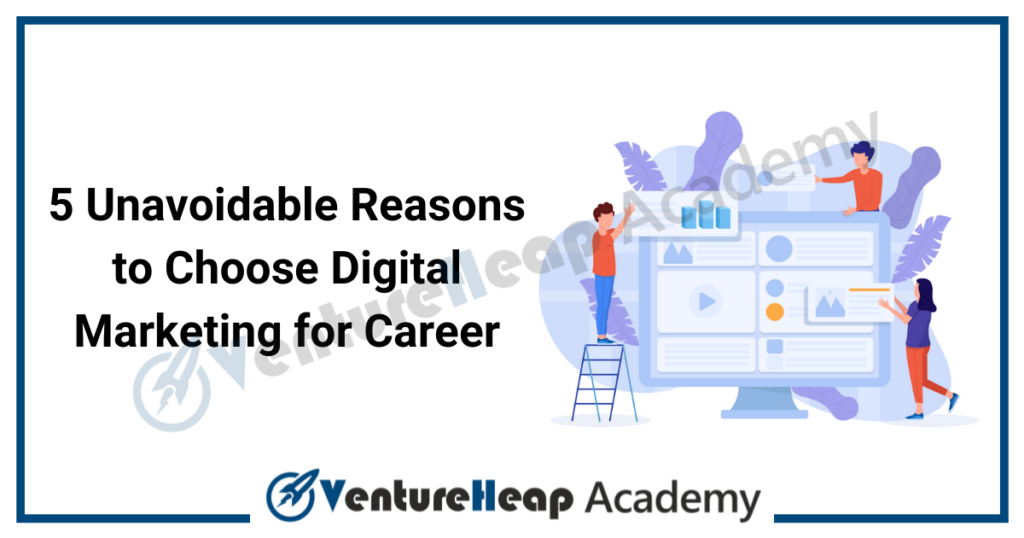 The key reason behind the seamless growth of digital marketing is the shift of businesses from the traditional model to an online model. Sooner or later, we will see every business getting indulged in digital marketing activities. For this purpose, they need skilled digital marketers. Hence, the demand for digital marketing specialists is constantly growing.
What is Digital Marketing?
In simple terms, digital marketing is a way for businesses to promote their services, products, etc. and find customers through digital ways of marketing. It also helps in raising brand awareness, targeting a new audience, etc.
It is a broad term comprising people with varied skills and roles, such as SEO executives, social media managers, PPC managers, etc. Following are the general aspects of digital marketing that you will touch in your career as a digital marketer:
Search Engine Optimization (SEO)
Search Engine Marketing (SEM)
Social Media Marketing (SMM)
Pay Per Click Advertising (PPC)
Mobile App Marketing
YouTube Marketing
Blogging
Copywriting
Email Marketing
Affiliate Marketing
There are several more elements of digital marketing, but you should initially focus on one or two skills and areas. As you master a couple of skills like SEO and SMM, you can spread your feathers further.
Why Choose a Career in Digital Marketing?
Looking to choose a career in digital marketing but not sure whether it's worth it? We have listed some of the primary reasons and benefits of choosing this field for your career.
Digital marketing is among the top in-demand job skills today. An increasing number of businesses across all sectors are looking for skilled professionals who can assist them in the rapidly changing space.
According to LinkedIn's data, digital marketing specialists are in the list of top 10 most in-demand jobs. SEO is the most desired skill in this field. Furthermore, in October 2020, there were more than 860k job openings for the digital marketing profile.
These stats are enough to prove that DM is in high demand and a good career option.
While the demand for digital marketers is high, but there are not enough professionals to meet this demand. This creates a gap in digital skills.
For instance, there were more than 2 million job vacancies for digital marketers in the UK last year, but there were not enough skilled candidates to fill them. By becoming a digital marketer, you can easily find new opportunities and fill the gap. To learn the required skills, you can join an offline or online digital marketing course.
Whether you chose to work as a full-time freelancer or a full-time job, you will be paid well for your digital marketing skills. Depending on the level of your experience, strategies, and methodologies, the companies and clients pay you for it. The reason behind good paychecks is that almost every company is looking for skilled digital marketing professionals. As you grow and gain expertise, you can see a hike in your salary packages and client proposals.
The digital sphere is not like a regular job with mundane and repetitive tasks. It needs you to be updated with the latest trends, updates, and work on a combination of both creative and strategical marketing. For example, if you chose SEO, you need to keep yourself up-to-date about the latest algorithmic updates of Google. For those who like to learn and work on new things and take on challenges, digital marketing is the right choice.
Additionally, you can grow your digital marketing skills along the way in your career. For instance, if you are an SEO expert, you can also upskill yourself by learning SMO, blogging, PPC, etc. There are no barriers and lock-ins to your learning.
If you are someone who doesn't like a 9 to 5 job or working under a boss, then you can start your own digital agency or work as a full-time digital marketing freelancer. Furthermore, you can set up your own blog and monetize it.
This is such a field that doesn't limit you. All you need is a computer and internet connection. With these, you are good to work from anywhere.
Wrapping Up
Digital marketing has become the lifeline of almost every business today. It will stay here for the coming many decades, but the techniques and algorithm will constantly evolve. If you are ready to keep yourself updated and embrace the changes, digital marketing is undoubtedly one of the best career options today.
Ashwdeep Singh, is a Founder & Chief Mentor of the Ventureheap Academy having 10+ years of experience in the Digital Marketing domain. His core area of practice is Search Algorithms which has given him an edge in analytical thinking with a unique perspective. He has worked as a digital marketing consultant with 300+ brands across 19 countries. He has a rich experience of writing in different areas related to marketing, technology & businesses.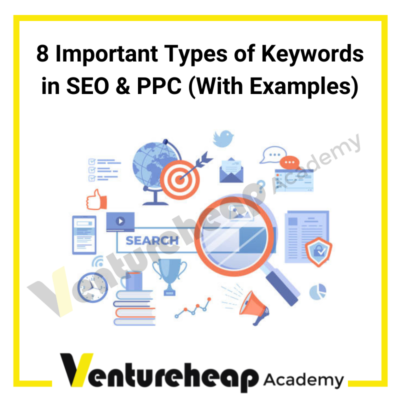 Wondering what type of keywords you must be using to boost your…